D101 Referendum
April 4, 2023
D101 delivers an exceptional education at an exceptional value
**3rd highest Illinois Academic Readiness (IAR) vs. local comparable districts (Butler 53 is #1 and Hinsdale 181 is #2).
** D101 is #8 in the State out of 720+ districts (Advantage Analytics)
** D101 spends an average 32% less Per Pupil Expenditure (PPE) than other LTHS feeder schools
** D101 spends an average 43% less PPE than other local area comparable districts
D101 Fiscal History
**The last referendum passed in 2003. The District planned for funds to last 10 years and they have lasted 20 years

**In 2003, the WS community voted to approve the referendum by a margin of 2 to 1
** In 2013, the district competed $15M in building additions/renovations without a tax increase.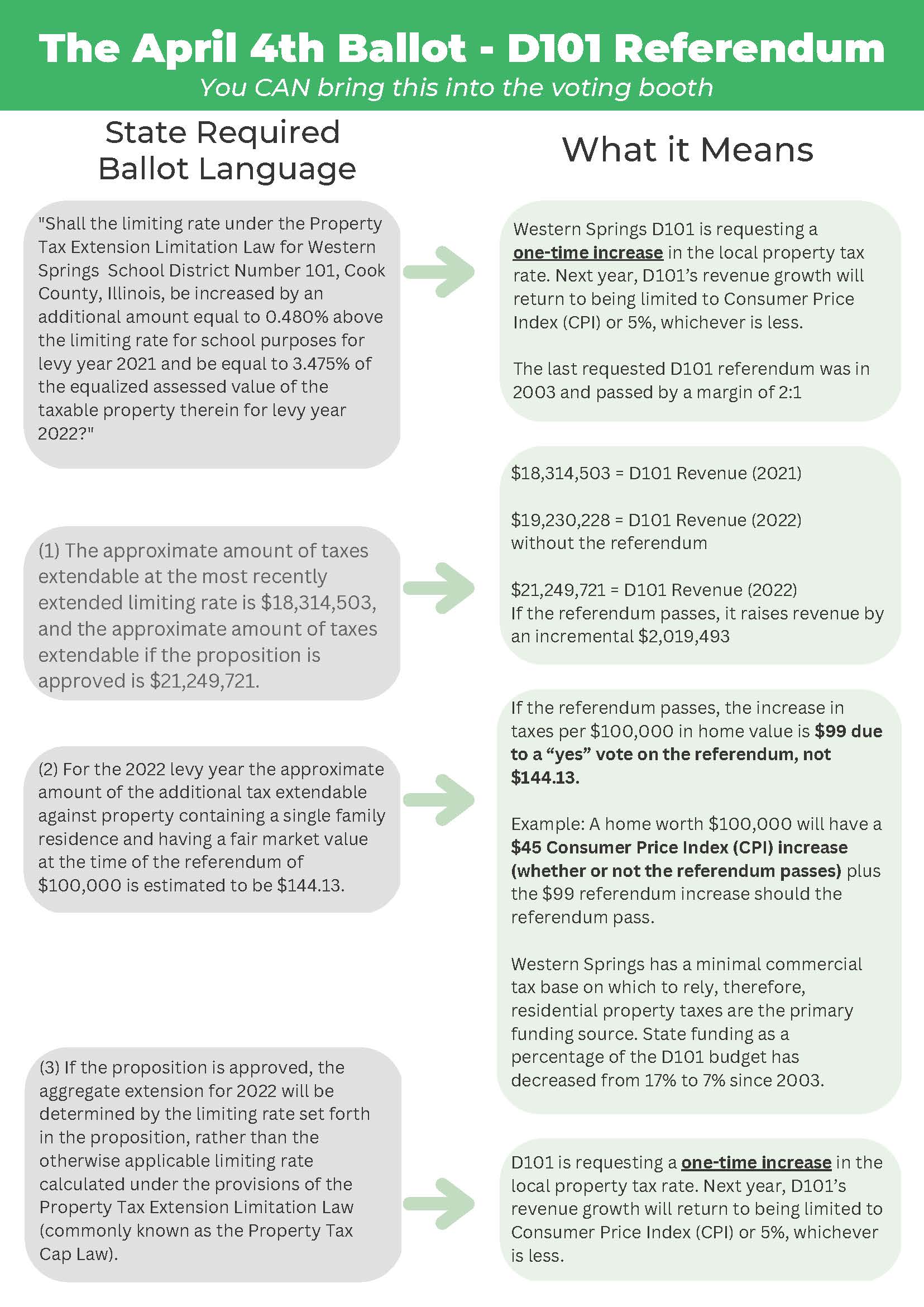 Voting Information
On April 4, 2023, there will be a D101 school referendum question on the ballot.
Voting Timeline
Voter Registration
More information about how to register to vote in Cook County is available here.

The earliest date to register to vote is 28 days before the election.

Once you have registered to vote, you do not need to re-register unless you move to a different address or change your name.
Ballot Language
The wording for the referendum ballot question is dictated by law and as such will say the following:
"Shall the limiting rate under the Property Tax Extension Limitation Law for Western Springs School District Number 101, Cook County, Illinois, be increased by an additional amount equal to 0.480% above the limiting rate for school purposes for levy year 2021 and be equal to 3.475% of the equalized assessed value of the taxable property therein for levy year 2022?
(1) The approximate amount of taxes extendable at the most recently extended limiting rate is $18,314,503, and the approximate amount of taxes extendable if the proposition is approved is $21,249,721.
(2) For the 2022 levy year the approximate amount of the additional tax extendable against property containing a single family residence and having a fair market value at the time of the referendum of $100,000 is estimated to be $144.13.
(3) If the proposition is approved, the aggregate extension for 2022 will be determined by the limiting rate set forth in the proposition, rather than the otherwise applicable limiting rate calculated under the provisions of the Property Tax Extension Limitation Law (commonly known as the Property Tax Cap Law)."
** Please note that if the referendum passes, the increase in taxes per $100,000 in home value will be $99 due to the referendum, not $144.
Example: A home worth $100,000 will have a $45 Consumer Price Index (CPI) increase (whether or not the referendum passes) plus the $99 referendum specific increase (should the referendum pass)